So Halloween is on a Wednesday this year...
I figured when I put an outfit together for
Friday Fancies
I wanted something that could transition from work to a Halloween party later that night.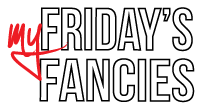 Below is what I concocted! The tights might be a little much for everyday work wear, but certainly you could get away with it on Halloween! And the hat can be a joke when you get to the office, but then easy to throw on later that night!
I would wear this outfit, would you?