Welcome back for another week of "From Our Kitchen to Yours" hosted by Whitney from
The Observant Turtle
and me!
Last week we had a really great turnout and were really impressed, so we decided to keep this recipe link-up going!
In talking yesterday, Whitney and I thought about categorizing each week. For example, appetizers one week, appetizers the next, main dishes (can even categorize into chicken, vegetarian, beef, seafood, etc!), dessert, drinks, etc! What do you think!? Let us know! If we you all like it we can make it happen!
Today I have two extremely easy recipes that you seriously cannot mess up!
Grape and yogurt salad
I call this a salad, but I don't really know if it is considered that or not? I just know it is super easy and I got the recipe from my roomie in Illinois. She was home economics teacher and always had baller recipes! I made this about two weeks ago as an appetizer/side for a supper club and I got a ton of compliments! It is so refreshing!
Ingredients:
1 bunch red seedless grapes, pulled off of the vine
1 bunch green seedless grapes, pulled off of the vine
1 single serving vanilla yogurt (like one cup) can use greek or plain
3 TSP brown sugar or a little more if you like sugar like me!
1/2 walnuts or pecans
Directions:
Combine all ingredients together in a mixing bowl. It's THAT easy!
Next up, I'm posting our dinner from last week! It again was a very easy recipe.
Shrimp kabobs with pesto
Ingredients:
1 lb shrimp peeled
1/2 lb scallops
1-2 zucchini
1/2 onion in large pieces
If you like bell pepper or mushrooms or other veggies, add those!
1/4 cup pesto (I cheated and use store-bought but you can certainly make your own!)
Skewers (depending on how many you make!)
Directions:
Light the grill!
Brush pesto onto shrimp and scallops.
Cut veggies into easy pieces to add to skewers.
Grill until shrimp are cooked through.


These were so good and we couldn't stop eating them! The kabobs were an easy way to get rid of the leftover veggies we had in the fridge, plus incorporate the Certified SC shrimp I bought at our seafood market in town. I encourage you to use your local produce, it will taste SO much better than the produce from 1000s of miles away ;-)

Don't forget to link up with us and grab our button below!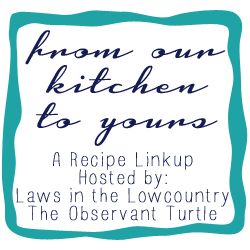 <div align="center"><a href="http://charlotteperrow.blogspot.com/" title="From Our Kitchen To Yours"><img src="http://i307.photobucket.com/albums/nn282/inlovesince22808/recipebuttoncopy2.jpg" alt="From Our Kitchen To Yours" style="border:none;" /></a></div>