I need this outfit. When I saw that today's
Friday Fancies
is all about gingham, I was in! Earlier this spring I bought a J Crew gingham shirt and then found and a couple at Old Navy and stocked up!
The outfit below is honestly 100% me and what I wear! I may base my Saturday errands outfit tomorrow around this.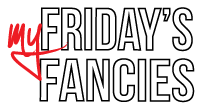 HAPPY FRIDAY!
So excited about my laid back weekend- Tyler is headed to Nashville for his brother's Bachelor party. I am dog sitting Sarge, getting a massage, doing some wedding things, and relaxing!
Whats on your weekend agenda?
Ta ta,