Happy Friday! Today I am linking up with {av} at
Long Distance Loving
for Friday Fancies!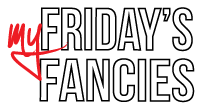 This week's theme is all about shorts! I am SO thrilled that I just found out I can wear shorts to work in the summer! We have a very casual office, and people rarely come in, so I can get away with wearing J. Crew chinos!
This outfit is almost 100% identical to what I am wearing today... The shirt is different- mine is an old Loft black and white shirts that I love. I am also trying to start wearing my Jack Rogers again because my fake pair are falling apart (guess thats why they were $20). I also don't do much walking around my office so they don't hurt my feet as badly!
My usual go-to shorts are Gap, Old Navy, and J Crew.
What are yours?
Ta ta,