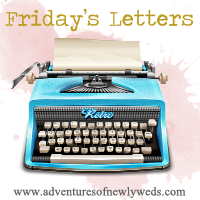 Dear
sinus infection
, please go away. We have guests coming tonight and I need to feel better! Dear
friends coming tonight,
I can't to see you and have a doggie play date! Sorry in advance for not feeling well. Dear
work,
thanks for finally letting up and being nice to me. These placements recently really make me happy! Dear
rain,
please come to Illinois. We REALLY need you and the corn is so thirsty! Dear
Sarge,
please stop shedding. I sweep the floor daily because your black hair gets everywhere! Dear
Dad,
Happy Father's Day weekend! Sorry I am not there to celebrate. Dear
July 29
, HURRY UP!! I am ready to go homeeeee!! Dear
blog friends,
I really love ya'll. I love my in real life friends, but I really appreciate the love and support I have gotten while blogging!
Dear
best childhood friend Caroline,
CONGRATULATIONS on your engagement!! Caroline and I have been best friends since kindergarten and she is getting married to her boyfriend of 7 years!
circa 1999.. go ahead... make fun!
He proposed last night at the lake on their anniversary. I will take ALL the credit for convincing him to "ask her out" in high school. He had been at my house earlier and I told him he just needed to bite the bullet and do it! And now look- they are engaged!! Here's the text I got:
She had called me in the midst of making dinner and I missed the call but immediately knew what it was about!! YAY!
The beautiful ring!
Dear nap today, you were awesome. All 4 hours of you! Dear weekend, thanks for being here! Dear 5k tomorrow, be nice! Don't think I'll be pushing too hard considering I feel terrible, but its for a good cause!
Happy Weekend!