I am so excited. I just found out that the Tanger Outlets in my little town of 2400 in Illinois is getting a
My coworker knows my love of J Crew and the fact that we don't have one anywhere close just made me super duper excited. I am dedicating today's Friday Fancies to all things colorful and J Crew today!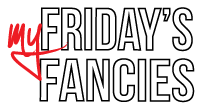 I am just so excited that I had to make my whole post J Crew- related, so forgive me! I am just super excited. Maybe I will quit my recruiting job to work at J Crew.. Anyone? Ok, don't tempt me.
Hope you have a great weekend!
Ta ta,