Dear Friday, THANK YOU for being here.
Dear work, glad I don't have to deal with you for two days.
Dear fall weather, HELLO, please stay around a while.
Dear wedding shoes, please appear at my doorstep and be comfortable (and on sale). I'll take either of these please:
Dear mom, I know you are having a great time in Italy, but I really need to communicate with you about wedding stuff.
Dear junk food, I wish you would go away. I am doing really great at the gym, but you taunt me. Halloween candy, that includes you, too.
Dear Tyler, I love you and your goofy self. You really make me laugh a lot.
Dear March 23, 2013, you are 190 days away... WOW!
Dear 5pm, hurry up. I'm making a pitstop by J Crew and Old Navy on my way home.
Have a great weekend friends!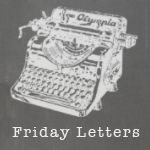 Ta ta,